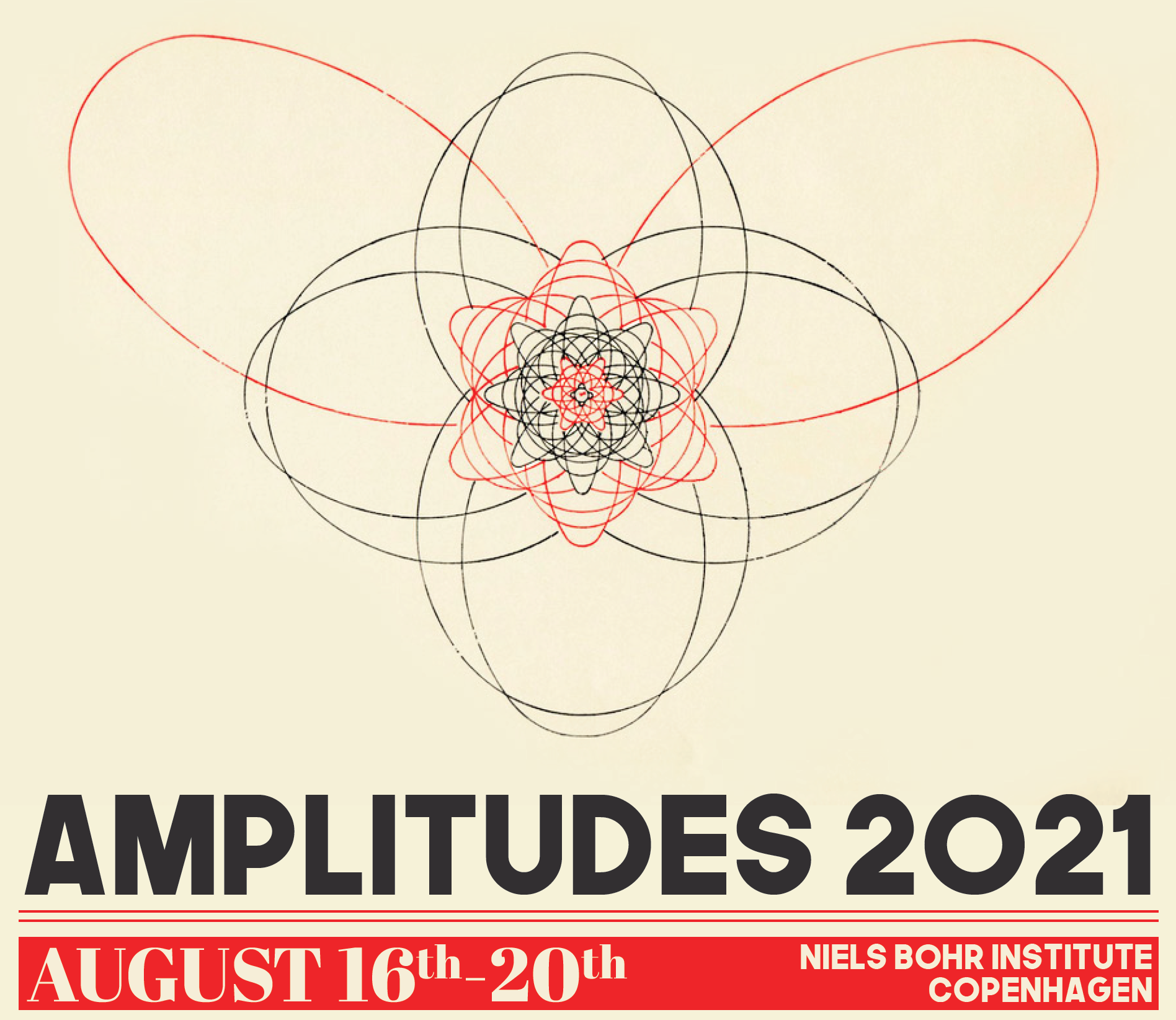 The week of August 16-20, 2021, the Niels Bohr International Academy and the Niels Bohr Institute in collaboration with Penn State will proudly host Amplitudes 2021, the 13th in a series of annual conferences presenting the latest developments in the study of scattering amplitudes in quantum field theories.
While the conference was originally planned to be in-person, out of caution it will now be entirely online. We are grateful to Penn State for assistance with presenting a high-quality Zoom-based conference experience.
The conference will be preceded by a school on scattering amplitudes aimed at PhD students, organized by the SAGEX network.
Confirmed Speakers:
| | | |
| --- | --- | --- |
| Albrecht Klemm | Claudia de Rham | Sebastian Mizera |
| Alessandra Buonanno | Clifford Cheung | Shruti Paranjape |
| Anastasia Volovich | Erik Panzer | Simon Badger |
| Andrea Puhm | Francis Brown | Simon Caron-Huot |
| Andy Strominger | Gherardo Vita | Stefan Weinzierl |
| Anne Spiering | Henriette Elvang | Thibault Damour |
| Ashoke Sen | Ingrid Vazquez-Holm | Walter Goldberger |
| Bernhard Mistlberger | Jaroslav Trnka | Yael Shadmi |
| Cameron Langer | John Joseph Carrasco | Yu-tin Huang |
| Camila Machado | Mao Zeng | Yvonne Geyer |
| Carlo Heissenberg | Matteo Parisi | Zahra Zahraee |
| Chiara Signorile-Signorile | Mikhail Solon | |
| Chi Zhang | Nikhil Kalyanapuram | |
| Cindy Keeler | Rachel Rosen | |
| Claude Duhr | Ruth Britto | |
Special Lectures:
Nima Arkani-Hamed
Zvi Bern
Lance Dixon
Registration:
Registration is now open as a link in the side menu. If you are interested in participating in our virtual poster session, please include your title and abstract when you register. Registration will be closed on August 1.
Organizing Committee:
N. Emil J. Bjerrum-Bohr, Jacob Bourjaily, Poul H. Damgaard, Michèle Levi, Matt von Hippel, Andrew McLeod, Matthias Wilhelm
Scientific Advisory Committee:
Ruth Britto, Freddy Cachazo, Cliff Cheung, Lance Dixon, Claude Duhr, Henriette Elvang, Song He, Lionel Mason, Anastasia Volovich, Stefan Weinzierl

Conference Series:
This event continues a series of conferences initiated in 2009.
Sponsors:
This project has received funding from the European Union's Horizon 2020 research and innovation programme under the Marie Skłodowska-Curie grant agreement No. 764850 (SAGEX).
Registration
Registration for this event is currently open.