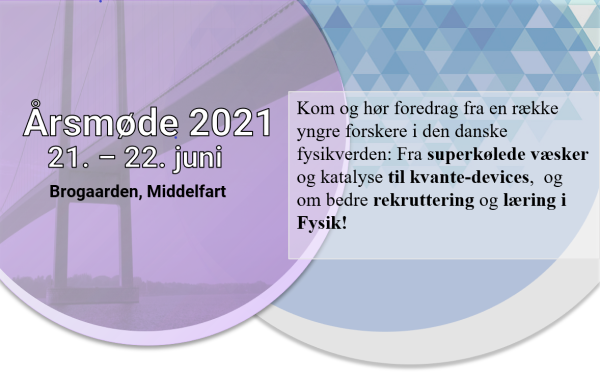 Årsmødet i Dansk Fysisk Selskab kommer i år til at ligge 21.-22. juni, og vil forgå på Brogaarden ved Middelfart. Programmet vil indeholde både fælles plenar-foredrag og foredrag i parallelle tematiske sessioner, samt selvfølgelig poster-session, middag og godt samvær med nuværende, tidligere og kommende kollegaer og studiekammerater!

Udover de inviterede foredrag vil der naturligvis også være en lang række "contributed" foredrag i programmet, idet vi med DFS' Årsmøder gerne vil skabe en god ramme for at også yngre fysikere kan præsentere deres arbejde for fagfæller.
Alle deltagere, særligt studerende, opfordres til at medbringe en poster, og der vil være kontante præmier til både det/de bedste foredrag og den/de bedste poster, og vinderne vil desuden blive inviteret til at skrive en artikel om deres projekt til KVANT.
Der vil i år være fripladser til både såvel gymnasielærere og studerende som er medlemmer af DFS, og i øvrigt vil medlemskab af DFS som altid medføre en rabat på konferencegebyret.
Tilmelding sker ved klikke på "registration" i menuen til venstre. Registreringen er først afsluttet ved betaling. Betaling kan gøres med paypal eller gængse kreditkort (via paypal.dk).

%%%%%%

The Annual Meeting will this year take place from the 21st to 22nd of June, and the venue will be Brogaarden near Middelfart. The program includes plenary talks, parallel thematic sessions and of course the poster session, the dinner and great company with colleagues past and present, fellow physicists and old friends.

All participants, especially students, are encouraged to bring a poster, and there will be cash prizes for both the best talks and the best posters. The winners will also be invited to write an article about their project to KVANT.
Membership of DFS will, as always, lead to a discount on the conference fee, and there will also be free-passes for both high school teachers and students that are members of DFS. A condition for the free-passes is to present a poster or give a talk.